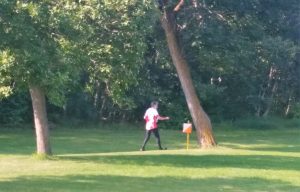 Building on our popular Kids Run Wild Program we are offering a spring series geared towards beginner/intermediate adults and our more advanced juniors.  The series includes:
Eight Tuesday evening or Thursday evening sessions in city parks with beginner and more advanced skill development activities co-located with our Kids Run Wild sessions.
Three Saturday sessions at parks in Edmonton to focus on building skills needed to give confidence when orienteering outside the city.
Two Saturday sessions providing pre, post and on course coaching at forest orienteering events in central Alberta.
Two Saturday sessions at natural areas near Edmonton with activities to learn and practice specific skills.
To encourage family participation, each adult registration in BKRW2 includes one free registration for a 16 or under junior.  The program is open to all fitness levels.  We focus on skills, the speed you go at is up to you.
These are examples of activities provided for some of the Saturday sessions.  Click on the image to enlarge.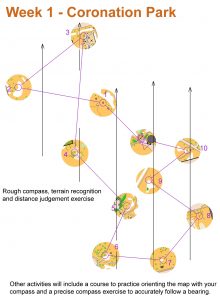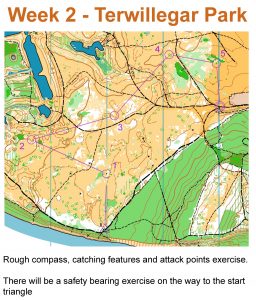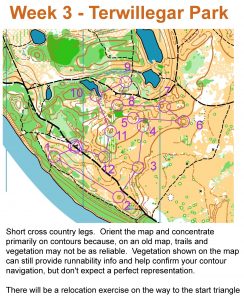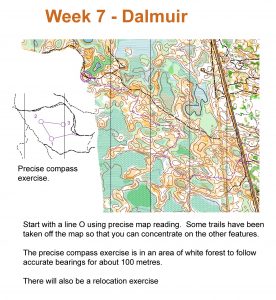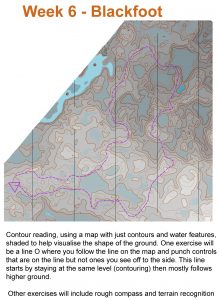 At the end of the 8th week we would encourage you to participate in the AOA skill development camp to be held near Calgary.  (separate from the BKRW2 registration)
BKRW2 Saturday Schedule
Date
Location
Session Focus
April 7, 2018
Coronation Park
(11425 142 Street)
Map handling: folding, thumbing, orient with compass
April 14, 2018
Terwillegar Park
(10 Rabbit Hill Road NW)
safety bearing, rough compass, terrain recognition, attack points
April 21, 2018
Terwillegar Park
(10 Rabbit Hill Road NW)
Catching features, aiming off, relocation (memory, map & compass)
April 28, 2018
Rumsey Natural Area
(approx. 2.5 hrs South of Edmonton)
Route choice, reading contours & vegetation, map handling, relocation
May 5, 2018
JJ Collet Natural Area, Morningside
(1.5 hrs South of Edmonton)
Linear features, catching features
May 12, 2018
Blackfoot Provincial Recreation Area
(30 minutes East of Edmonton)
Contour navigation, line O, compass, terrain recognition
May 19, 2018
Redwater Provincial Recreation Area
(45 mins NE of Edmonton)
Precise map reading, precise compass, relocation
May 26, 2018
Near Calgary
Skills Camp - weekend event
Participants have their choice of attending Tuesday or Thursday sessions OR attending only  Saturday sessions.
Weekday KRW Series
Week #
Tuesday park location
Thursday park location
Week #1
Tuesday, April 3, 2018 -
Hawrelak Park
Thursday, April 5, 2018 -
Rundle Park
Week #2
Tuesday, April 10, 2018 -
Hawrelak Park
Thursday, April 12, 2018 -
Gold Bar Park
Week #3
Tuesday, April 17, 2018 -
Hawrelak Park
Thursday, April 19, 2018 -
Rundle Park
Week #4
Tuesday, April 24, 2018 -
Whitemud Park North
Thursday, April 26, 2018 -
Gold Bar Park
Week #5
Tuesday, May 1, 2018 -
Whitemud Park North
Thursday, May 3, 2018 -
Gold Bar Park
Week #6
Tuesday, May 8, 2018 -
Whitemud Park North
Thursday, May 10, 2018 -
Capilano Park
Week #7
Tuesday, May 15, 2018 -
Hawrelak Park

Thursday, May 17, 2018 -
Gold Bar Park
Week #8
Tuesday, May 22, 2018 -
Whitemud Park North
Thursday, May 24, 2018 -
Gold Bar Park
* These locations are subject to City approval and may change