WHITEMUD PARK NORTH – 13909 Fox Drive
Directions: Access to the park is north off Fox Drive onto Keillor Road; this is easiest to do when heading westbound.
Location: Meeting at the Amenitis Building – just after the amenities (washrooms) building on the right hand side of the road -turn left into the parking lot.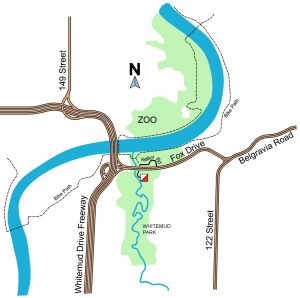 KINSMEN PARK – 9100 Walterdale Hill NW
Directions: Access at the bottom of Walterdale Hill or Queen Elizabeth Park Road. Take care not to miss the turn as it's a long way round for another try!
Location: We meet on the West side of the Playground. If space is available, there are parking stalls near the splash park/playground. Look for our KRW Banner, we are typically set up at a picnic table just beyond the playground.
There are seasonal flush toilets south of the playground.
RUNDLE PARK – 2909 118 Avenue
Access off 118 Avenue at Abbottsfield Road, or 113 Avenue near 30 Street. Drive towards the south end of the park. Typically when we use Rundle Park for activities – our meeting location will either be at the ACT Centre or at the Family Centre.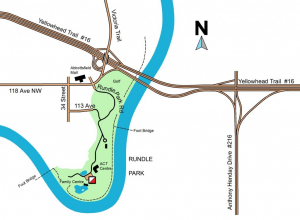 GOLD BAR PARK – 10955 50 Street
Access is off 50th Street at the equivalent of 110 Avenue. Registration is usually near the shelter/pavilion. The shelter is heated and has both Indoor washrooms and water fountain.
ETS Route 94 from Capilano Transit Centre or the University Transit Centre.