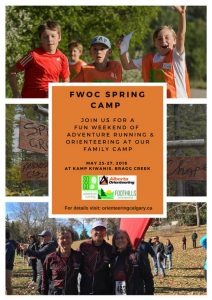 Calgary's Foothills Orienteering Club in conjunction with the Alberta Orienteering Association is hosting 2018's Orienteering Training Camp for orienteers (or wannabees) of all ages and skill level. Families are welcome.
Join us from May 25 to 27 for 3 coached training sessions and a Sunday afternoon event.  Organizers are planning activities for wee orienteers, adults brand new to orienteering, and those who have been on a map no matter their skill level from forest beginner to expert.
Accommodation is arranged at Kamp Kiwanis.  Kamp Kiwanis is located near Bragg Creek, Alberta (23km West of Calgary).  Their driveway is located just off the traffic circle where highway 22 and highway 8 meet.  
For more information on this camp, please visit https://www.orienteeringalberta.ca/special-events.html